Today I got a phone call from Jen who was standing in a traffic line honoring the passing convoy funeral procession of a fallen Marine.   We are off the same exit as the nearby CT Veterans Cemetery and she said I should watch the procession, because it was quite a honor filled display of respect for a brave man.   Complete with a motorcycle rally escort (despite the mid 20 degree temperature).  So I grabbed my camera and headed to the street to watch.  I was able to get a few photos of the head of the procession, then just needed to pause and watch.  Take in the huge sacrifice that SO many brave Americans make each day in an effort to protect our liberties and our great country.   Currently my sister in-law and brother in-law are both enlisted Marines and something like this hits close to home.  Today flags across Connecticut are being flow at half mast in honor of Cpl. Xhacob LaTorre.  Here is his photo from the NBC30 Story Recently run on him.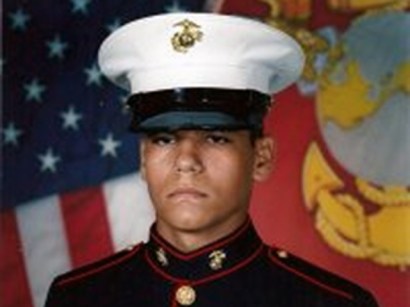 Click on the photo to view the story.
Here are my pictures as they came down off the exit en route to the cemetery.
God Bless you Xhacob and God Bless America